[UPDATE: I will NOT be buying this phone nor be registering/entering any personal information on their website and I would encourage you to do the same. After analyzing their website, I found that it is completely unsecure and lacks basic security. I also wrote an article on why you should not order this phone, you can find it here.]
Ringing Bells is set to launch budget mobile " Freedom 251 " today at 6PM  for Rs.251($3.67).Take a look at the specifications below:
Display: 4-inch qHD (960×540 pixels) ,Touchscreen
Display Panel: IPS
Network: 2G / 3G GSM
CPU: 1.3GHz quad-core processor (Qualcomm/ Mediatek – Uncomfirmed)
Memory: 1GB RAM
Internal storage: 8GB
SD Card Support: Yes (upto 32GB microSD card supported)
Primary Camera: 3.2-megapixel autofocus camera, (No Flash)
Secondary Camera: VGA
Connectivity: Wifi, Bluetooth, FM Radio (No support for GPS, NFC, Infrared, OTG)
Sensors: Proximity Sensor
Battery: 1450mAh
OS: Android 5.1 Lollipop
Warranty: 1 year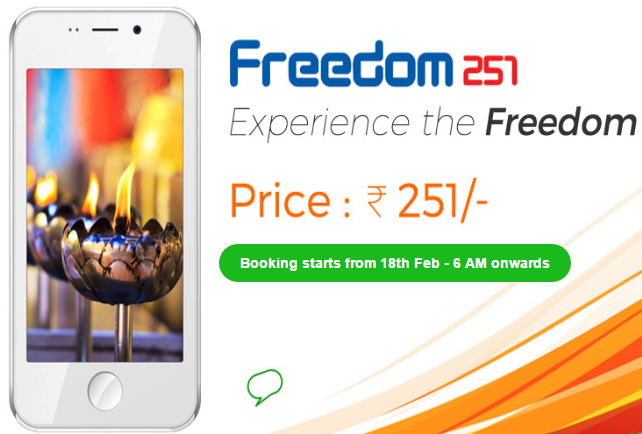 Price:
Mobile Price = Rs. 251
There will be a shipping charge of about Rs. 40 .At this point of time, I am not sure if there are any extra taxes.
If you looking to purchase the device can click the link below:
Purchase Link: Buy Freedom 251 [Disclaimer: Buy at your own risk ]
My Personal Impression so far:
I find it skeptical that the mobile phone manufacturer "Ringing Bells Private Ltd" does not yet have a proper Wikipedia page nor a proper website. You can find the manufacturer wiki link here and freedom 251 wiki page here.
No mention of SAR Value (which is the amount of radiation the phone emits) mentioned anywhere in their website.
As it an unheard company, some may find that there is no option of cash on delivery.
The website lacks basic security and I would personally stay away from them.
Not sure about the quality of customer service yet.
Best value for money phone.
The way I see it, if you need a ultra budget phone for about Rs. 500 (and expect to dispose it when it stops working as I am not sure about their customer service), you can go for it.
So, are you going to order the Freedom 251? Do, Leave a comment in the comments section below, I would love to hear from you.
Feel free to share this article in facebook, twitter, google+ by clicking on share button you see in this page. Do subscribe to get future updates! 🙂
Sources: BGR, NDTV, Freedom251